Appysmart.com posted a review of Memory Game Spelling Words, an educational application for iPhone, iPad and iPod Touch. The review focused on: Interface, Ads, In app purchase, Graphic quality, Length of play, and Educational value.  Memory Game Spelling Words App created by @Reks met the criteria to earn the Editor's Favorite Badge. Here is what the reviewer likes: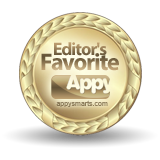 …the concept, easy operation, good educational value, number and choice of words (short vowel words, long vowel words, sight words), many configuration options (uppercase/lowercase, word lists, 6/12/18 tiles), clear pronunciation of all of the words, the visual prompt option (to take a quick look at the cards). Read full review…
Appysmart.com is a website that provides a list of "best apps for young brains". To provide their users with the best recommendations possible they created "a complex rating and ranking criteria and a special algorithm to analyze and match the data".
To learn more about the review go to www.AppySmart.com/MemoryGameSpellingWordsReview.
You can follow AppySmart on Twitter: 
https://twitter.com/#!/AppySmarts